The Buffalo Sabres drew Craig Anderson out of retirement last offseason and after a strong performance, he's coming back for another go-round. Anderson has signed a new one-year deal with the Sabres, this time worth $1.5MM, twice what he made in 2021-22.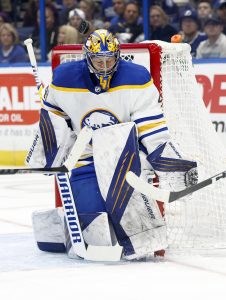 Since the end of the season, Sabres general manager Kevyn Adams has done nothing but speak highly of the 41-year-old netminder, explaining that he was a huge part of the leadership group in Buffalo this year, helping the young team take positive steps. "He gave us a chance to win," said Adams earlier this week.
Still, though Anderson did play better than expected, his overall numbers were still well below league average. Partly due to the Sabres play in front of him, and partly because of a late-season swoon, Anderson ended the year with an .897 save percentage in 31 appearances.
Different from last year though is that Anderson likely isn't going to be expected to carry the lion's share of the goaltending load. Lance Lysowski of The Buffalo News still expects the team to acquire a proven NHL goaltender one way or another to pair with the veteran, allowing prospect Ukko-Pekka Luukkonen to start in the AHL once again.
Clearly, there is a desire from Buffalo to be more competitive in 2022-23, but it remains to be seen whether Anderson–who could be the oldest player in the league this season, depending on Zdeno Chara's decision–can actually continue to give them that status.
He will get a chance to climb even higher on the all-time lists though. Anderson is currently tied with Pekka Rinne for 32nd in games played and could become just the 31st goaltender in history to crack the 700-game mark with 17 more appearances.
Photo courtesy of USA Today Sports Images