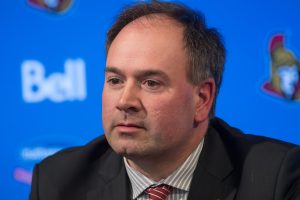 Tyler Kleven has signed his Entry Level Contract (ELC) with the Ottawa Senators. The Senators General Manager Pierre Dorion is elated to have the physical defenceman prospect. Kleven's college team at the University of North Dakota recently wrapped up their NCHC tournament.
News Release: The #Sens have agreed to terms with defenceman Tyler Kleven on a three-year, entry-level contract

– https://t.co/Or5fsZi10K pic.twitter.com/JKAhjJE0MM

— Ottawa Senators (@Senators) March 23, 2023
Tyler Kleven Signs ELC with Ottawa
For Kleven, he had a bit of an up-and-down final season before deciding to turn pro. At the beginning of the 2022-23 season, Kleven was looking to supplant himself as a top prospect for the Sens blueline. However, early on he struggled, and combined with a few suspensions, he has had a tough season. To his credit, as the season wore on, Kleven looked stronger. He finished the season with over a 0.5 PPG, not to mention a punishing over 80 PIM. That was not even his career high, as in 2021-22 he compiled 93 PIMs in 38 games. Needless to say, his play to end the season looks more like the prospect that saw him be invited to multiple Team USA World Junior squads.
Tyler Kleven has another suspension coming his way — he got his fourth misconduct of the season on Saturday

This will be the fourth suspension of Kleven's NCAA career @SensCentral #GoSensGo https://t.co/HCyDK0gtsj

— Sens Prospects (@SensProspects) February 12, 2023
Kleven has the potential to develop into a dominant, defensive defenceman in the NHL. He was drafted by the Ottawa Senators in the 2nd round, 44th overall in the 2020 NHL entry draft. This was a draft the Senators owned, picking up Tim Stutzle, Jake Sanderson, and Ridly Greig in the first round. Furthermore, the UND has been a breeding ground for Ottawa Senator prospects lately. Shane Pinto, Jacob Bernard-Docker, Jake Sanderson, and Christian Wolanin are recent products of Head Coach Brad Berry's UND program. Kleven himself suited up for three seasons at UND. In the 2020-21 season, Pinto, Bernard-Docker, Sanderson, and Kleven all played alongside one another.
What this Means for the Senators
This signing of Tyler Kleven means a couple of things for the Senators. Firstly, they have a young, strong, defensive defenceman to add to the shuffle. This will potentially help alleviate some of the tough minutes off of Thomas Chabot and Sanderson's shoulders. Now, there is one problem with bringing in Kleven to the Senators current alignment of top six defencemen. The problem is the log jam of left-hand shot defenceman. Each of Jakob Chychrun, Erik Brannstrom, and the previously mentioned Chabot and Sanderson, all shoot left. In contrast, the Senators organization should have a little time, as Kleven may require a year at the AHL Belleville Senator level, before leaping the big club.
Main Photo: Marc DesRosiers-USA TODAY Sports
The post The Ottawa Senators Sign Defenceman Tyler Kleven to ELC appeared first on Last Word On Hockey.