When a franchise struggles for a long period of time and changes their general manager, installing someone with little front office experience, you can assume that the rest of the league takes flight like vultures to try and pick the roster clean of any talent. That's exactly what seems to have happened in Buffalo when the Sabres made the move to fire Jason Botterill and hire Kevyn Adams as GM.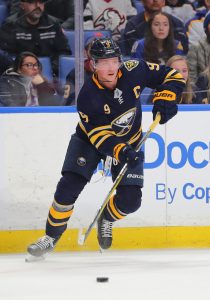 Bob McKenzie of TSN tweets that several teams including the New York Rangers called on the availability of Jack Eichel, though none of those conversations resulted in "trade traction" with Adams and the Sabres. McKenzie also makes sure to point out that neither the Sabres or Eichel himself have expressed any desire to part ways, in fact just the opposite appears to be true at the moment.
Ty Anderson of 98.5 The Sports Hub in Boston tweets that he was told the Bruins were also one of the teams speaking with the Sabres regarding Eichel, though again these talks don't seem to have gone anywhere.
It's easy to imagine why other general managers will continue to poke at the Sabres on the status of Eichel. Not only is the 23-year-old center one of the best players in the NHL coming off an incredible 36-goal, 78-point campaign, but he's also a $10MM ticket on a team that hasn't played a postseason game since 2011 and is reportedly looking at working under a drastically reduced internal salary cap due to recent financial restrictions.
If Buffalo is going to turn things around, it's hard to imagine it would be without Eichel leading the charge. The young forward is a true franchise talent that now has 337 points in 354 career games, despite often playing with an underwhelming roster. Even at that $10MM cap hit he likely represents excess value for the team, unlike some of his high-priced teammates (Jeff Skinner, who carries a $9MM cap hit through 2026-27, scored just 23 points this season).
All that said, Eichel has been quite clear in the past about his desire to win. His agent Peter Fish even re-upped that stance with McKenzie today, explaining that the star center doesn't want out but is frustrated with the team's results so far. If the Sabres can't turn things around, this won't be the last time that teams are calling about his availability or his name pops up in trade rumors.