The offseason has arrived for at least seven teams that were not invited to take part in the Qualifying Round that has now started.  With that in mind, our Offseason Keys series is underway for the teams that are on the outside looking in.  Next up is a look at Buffalo.
This season was certainly a disappointing one for the Sabres.  After bringing in a new head coach and bolstering their depth, the results weren't much different than in previous years with another playoff miss.  After originally giving Jason Botterill a public vote of confidence, ownership decided to make a change at GM, promoting Kevyn Adams to the role despite minimal front office experience.  The team has already made significant cuts to its front office and while making some moves to replace those that were let go (such as a new AHL coaching staff), Adams will have several things surrounding the Sabres on his plate this summer.
Looking Forward
Generally speaking, new general managers don't often get the cleanest of canvasses to work with as they look to put their stamp on the team.  Adams is in somewhat of a unique situation when it comes to his forward group as Buffalo has just four regulars signed for next season in Jack Eichel, Jeff Skinner, Marcus Johansson, and Kyle Okposo, the latter of which is likely earmarked for a fourth line or reserve role.
This isn't just a case of having a bunch of restricted free agents either as they have more unrestricted free agents than restricted free agents.  It's a safe bet that three of those RFAs will be brought back in Sam Reinhart (whose post-bridge contract is going to be one of the more interesting ones of the offseason), Victor Olofsson, and Dominik Kahun.  But even with them eventually getting signed, that's only seven forwards under contract which leaves up to seven roster spots available.
Of their unrestricted free agents, there aren't any must-sign players although if the price is right, they'll likely look at what it would cost to keep Zemgus Girgensons and Johan Larsson around.  Having said that, losing one or both of them won't drastically change their fortunes either.
Some of those open spots will likely be earmarked for youngsters.  Casey Mittelstadt will assuredly get another look while their top 2019 pick in Dylan Cozens may get a shot as well.  But even if those two make the team, there will be room to add.
Buffalo has less than $50MM in commitments for next season and even when they re-sign all of their restricted free agents, they will have a fair bit of room to play with in an offseason where cap space is going to be at a premium.  The Sabres will be well-positioned to try to add an impact forward or two via free agency and if that falls through, they should be able to take advantage on the trade market.  Many new general managers are hamstrung with limited flexibility when they take over but Adams will be the exception and will have a good chance to change up their forwards pretty quickly.
Determine Ullmark's Future
Last summer, Buffalo decided to kick the can on deciding Linus Ullmark's long-term future with the team down the road, inking him to what amounted to a second bridge deal, a one-year pact worth $1.325MM.  Given that he only had one full year of NHL experience under his belt, the decision was certainly justifiable.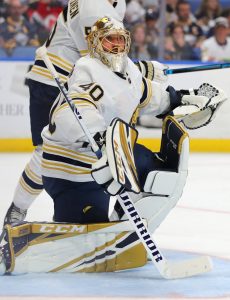 Punting that call again is no longer an option though.  The netminder is now one year away from UFA eligibility so another one-year deal just sets him up to walk away.  Adams is going to have to decide if Ullmark is a goalie that they want to build around pretty quickly.
Given his limited NHL track record (97 games over parts of five seasons), it would be difficult to make the case that he has shown enough to be their undisputed starter of the future.  On the other hand, Ullmark posted a more than respectable .915 SV% with a 2.69 GAA in 34 games this season.  On a non-playoff team, that's pretty good.  At a minimum, those are pretty good numbers for someone in a platoon role which is basically the role he has held the last two years.
At 27, is that a role that Ullmark wants to lock himself into for several more seasons, even with Carter Hutton only a year away from free agency of his own?  If he envisions himself as a starter, he may prefer another short-term deal to let him test the open market quicker.  On the other hand, with less than 100 games of experience, a multi-year commitment at a decent-sized raise on his deal from this season would give him some security that he hasn't had before.
The Sabres have a promising young goalie in the system in Ukko-Pekka Luukkonen but he's still two or three years away from being ready for the NHL.  Is Ullmark the right one to bridge the gap?  Adams will have to decide that over the next few months.
Dahlin Extension
Based on the new salary cap situation, it's not shaping up to be a fun offseason for many pending free agents.  But what about those who will be entering the final year of their deals and are now eligible for a contract extension?  It certainly stands to reason that teams may not be as willing to hand out a big-ticket contract to players in those situations as well.
Rasmus Dahlin appears to be a particularly interesting case study for players that can sign an extension.  The 2018 top pick actually saw his ice time scaled back this season under Ralph Krueger by nearly two minutes per game but it appeared to work for him as he nearly matched his rookie point total this season despite playing in 23 fewer games.
Between that and the expectations of him continuing to develop into an eventual franchise defenseman, this would normally be the recipe for a long-term deal getting done relatively quickly as other number one picks have done.  But that was then and this is now.  Is Buffalo going to be as willing to hand him a mammoth contract?  Will Dahlin prefer a bridge deal in the hopes that the cap picture will be improved once the next television contract is completed?  That's a path that a lot of players will likely take in the coming months.
One element that Buffalo has that many other teams don't is cap space.  They have the ability to ink Dahlin to a long-term deal now without it really creating a huge impact on their long-term cap picture.  Presumably, it will take more than what Florida gave Aaron Ekblad, a former top pick himself; the 24-year-old signed an eight-year, $60MM deal after his sophomore season which is where Dahlin is now.  (Based on Ekblad's cap percentage at the time the deal was signed, an equivalent rate would be roughly $8.7MM per season instead of $7.5MM.)  There's a roadmap to getting a contract extension done with Dahlin but will the new marketplace give one or both sides pause?  We'll find out soon enough.
Photo courtesy of USA Today Sports Images.