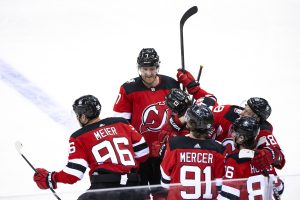 Now that the playoffs are drawing nearer and nearer, teams are fighting for every inch. Every two points matter to the clubs that are in the mix. However, there areckubs that are planning for the offseason. Addressing the question as to what they can do to be better and get better. One club who has this question is a playoff team. Today's rumours swirl around a pair of New Jersey Devils contracts.
New Jersey Devils Contract Talks With Pair Of RFA's
Rumour: Lyle Richardson from The Hockey News discusses contract talks for two Devils RFA Players
The New Jersey Devils have been a blast to watch this season. Defying all the odds and expectations set for them, they have been a fun group to watch. However, Tom Fitzgerald will have his work cut out for him this summer. A pair of New Jersey Devils contracts will be handed out to prized RFA players. Those two players are Jesper Bratt and the newly acquired Timo Meier. The goal is to get them signed, but what does that look like going forward?
The Contract Outlook
As mentioned above, it will be a busy summer for the New Jersey Devils. The two players who need to be locked up are key pieces in their top six. Given their age, they fit the core group perfectly setting the Devils up for success for the foreseeable future. But with them as pending RFA, the need for new contracts is a must. Can the Devils manage to keep both? Let's take a look.
Timo Meier
The prized acquisition and one of the biggest splashes on deadline day. Timo Time is officially happening in the state of New Jersey. And given the haul it took to land the big fish in the maker, the goal is to pay him. According to Richardson, talks have been ongoing, but nothing serious yet. Meier is finishing up his four-year contract. However, he does have a qualifying offer which will cost the Devils $10M to retain him for one year. The goal is to get him signed beyond that. Ideally, eight years is the goal, but he is due a hefty raise from the $6M that he is making currently. A projected deal for Meier is an AAV of $9M. Given the cost to acquire him, the goal is long-term.
Jesper Bratt
The other New Jersey Devils contract to sign is a longtime Devil. Jesper Bratt is going through another summer of contract negotiations. After having a career-high last season, he signed a one-year deal proving that it was no fluke. Bratt has already set a new career high in goals (27) and is 13 points shy of his total from last year. Like Meier, Bratt is due a significant raise from the $5.45M that he is making this season. In addition, it could very well be another $9M type of deal. He has been with the Devils since 2017-18 and could be a Devil for the foreseeable future. Bratt has earned that right by establishing himself as a core building block.
Can The Devils Make This Work?
As mentioned in the article, the Devils will have $35M in cap space. If the deals are to be $9M for each player, that is $18M tied up in two players. But for a team who has been searching for wingers to play with their centres, this is a huge win.
However, the team will have key departures. Damon Severson will be a free agent. In addition, the Devils may not have enough to lock up Ryan Graves, Yegor Sharangovich, and Mackenzie Blackwood. Blackwood is the biggest, but the emergence of Akira Schmid could see him sailing somewhere else. It will be interesting, but Fitzgerald has his work cut out for him this summer.
Main Photo: John Jones-USA TODAY Sports
The post NHL Rumour: Devils Contract Negotiations With Two RFA Players appeared first on Last Word On Hockey.