The Buffalo Sabres are a team to watch on the trade market this summer and not only because of Jack Eichel. At their end-of-year press availability, Sam Reinhart and Rasmus Ristolainen both expressed some frustration with the organization's lack of success and knew their names would be brought up in the offseason. Ristolainen in particular has been involved in trade speculation for years, as his blunt way of speaking his mind has led to some choice quotes.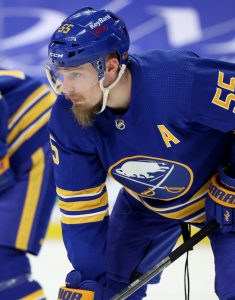 Now, Lance Lysowski of the Buffalo News is reporting that the New Jersey Devils have shown interest in the 26-year-old defenseman, noting that the team has a glaring hole on the right side because of the pending free agency of Connor Carrick. Of course, Carrick only played 11 games for the Devils this season and has been used sparingly since arriving, but that doesn't necessarily mean the Devils wouldn't do well to upgrade their defense. Even the right side, which already has P.K. Subban and Damon Severson on the books, could be improved if the Devils want to compete in the Metropolitan Division next season.
Is Ristolainen the right way to go about that? The Sabres defenseman has just one year left on his six-year, $32.4MM contract, meaning he'll carry a cap hit of $5.4MM next season. He has long been criticized for the analytical community given his brutal possession numbers, but at least some of that poor shot suppression comes from being asked to carry the load as the Sabres top dog. Since he debuted in 2013-14, the eighth-overall pick has averaged nearly 24 minutes a night over 542 games. He has been given defensive starts more often in all but one of his NHL campaigns, with this most recent season being the most lopsided. He is a -163 in that eight-year career and has failed to make the playoffs even a single time, but perhaps there is more to draw out of his game if he goes somewhere else.
When trading players that are a year away from free agency, teams will often look for a suitor that can offer an extension in order to maximize the return. While the Devils have enough cap space to do that with Ristolainen, the defenseman has been clear about his desire to end up with a winning program. He's tired of missing the playoffs, and going to New Jersey–even with their exciting young core–certainly doesn't guarantee he'd see the postseason anytime soon. Though he doesn't have a no-trade clause, the idea of a possible extension with a winning team would give the Sabres the most assets in return.
Photo courtesy of USA Today Sports Images