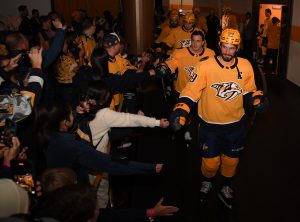 Elliotte Friedman of Sportsnet reported on Sunday Morning of Roman Josi's expected absence from at least Sunday's game against the New York Rangers,. He noted Josi was listed day-to-day.
Roman Josi did not make trip with NASH for tonight's game vs NYR. He is listed as day-to-day

— Elliotte Friedman (@FriedgeHNIC) March 19, 2023
Josi was injured sometime in the first period. However, he finished the period before missing the remaining two periods and overtime in last night's 3-2 loss against the Winnipeg Jets. Currently, the injury is still undisclosed, with the only status on the injury he sustained being listed as day-to-day, but even this provides uncertainty, as John Hynes remarked of a hypothetical situation in which he would have to replace him for any extended amount of time.
Roman Josi Out and Listed Day-to-Day
He is top Swiss point-producer in the history of the NHL. Josi has extended excellent form from his career season last year into this season. He posted 59 points in his first 67 games of the season, which leads the team. Josi is the definition of vitality to a team. He's an incredibly intelligent player. Josi displays a dynamic mix of puck transportation, play-driving, and back-end puck-moving abilities which almost entirely power the Predators' offence. For reference, the Predators generate chances at a rate five percent higher than the league average with him on the ice, and four percent below the league average when he's on the bench (HockeyViz).
Nashville's Response
Josi's injury, compounding among other injuries including those to Filip Forsberg and Ryan Johansen leaves the team largely depleted. Nashville must potentially face a stretch in which offence will be tolling to simply generating; arguably, the final playdriver within the lineup as of tonight lies in Matt Duchene.
While Josi is not set to miss significant time, the importance of every point Nashville can collect will continue to exponentially increase in magnitude. Dropping a point to a team directly competing with them for the last remaining playoff spot (Winnipeg) leaves them five points out. For Nashville, every game missed by Josi alongside the aforementioned injuries to Forsberg and Johansen will compound the importance of each game. It also leaves the team less prepared to adapt. If Josi can avoid any absence past three games, it will best equip the Predators for a very late-season push for the final wild-card spot in the conference.
Main photo by: Christopher Hanewinckel-USA TODAY Sports
The post Nashville Predators Star Defender Day-To-Day appeared first on Last Word On Hockey.