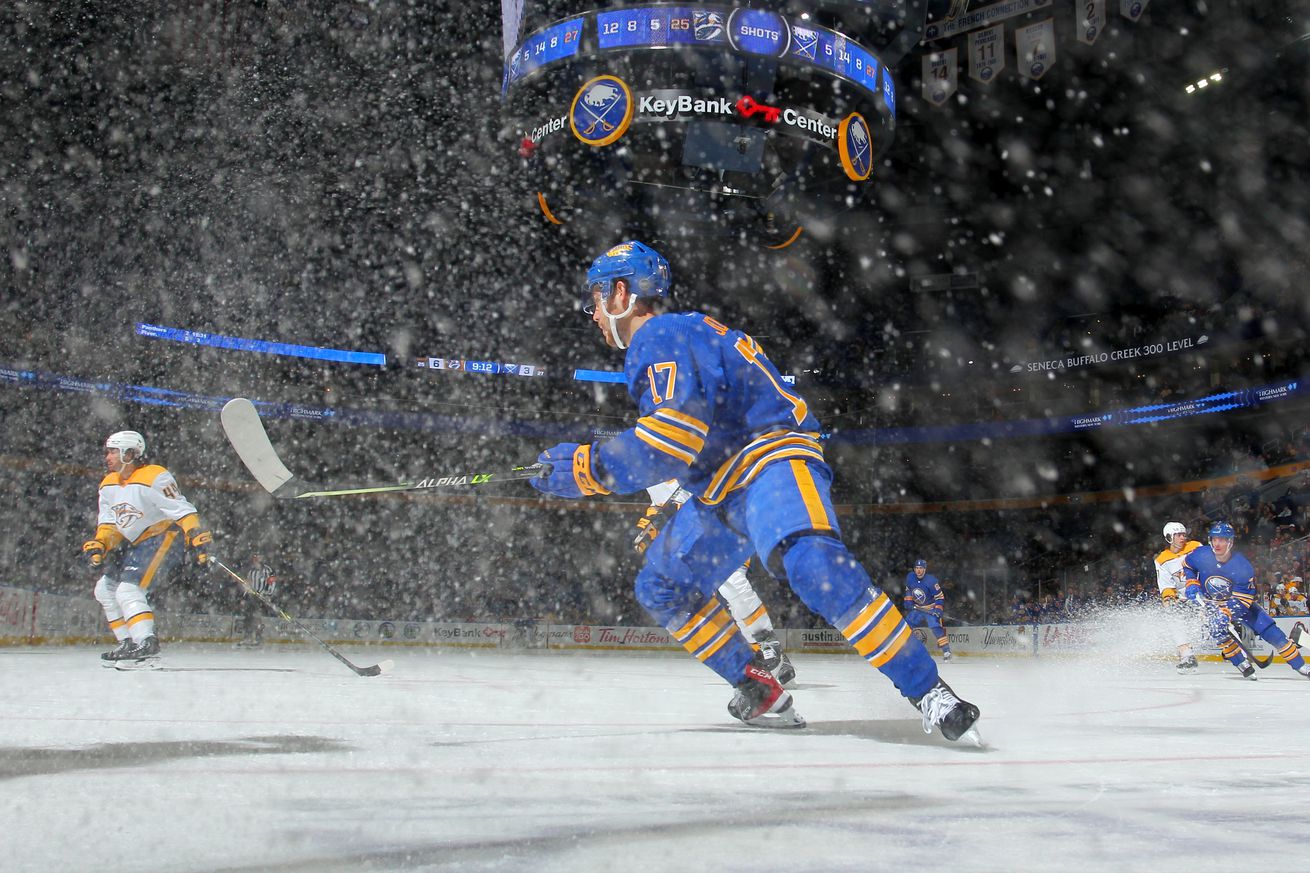 Here's what to expect in the next two weeks.
Hi all! While things are certainly rough for the Buffalo Sabres, things seem to be progressing smoothly here at Die By The Blade for our transition to an independent site/community.
Here's what you need to know:
There will almost certainly be a (hopefully short) period where this URL – diebytheblade.com – will be stagnant. It might be a week, I'm not sure – but there will likely be a period where nothing new will be posted here as we await the official transfer of the domain.
Since the Sabres play on both March 31 and April 1, in order to ensure minimal disruption, we will begin using our new, temporary URL on Friday, March 31. Without getting into the details, we're likely to lose access to the backend of this current site on April 1, and I'd rather make the switch a day early to keep everything in one place.
So: beginning Friday, March 31, you will need to visit this URL: https://die-by-the-blade.ghost.io/ until we complete the transfer of the diebytheblade.com domain. Once the transfer is complete, you'll be able to use either URL to reach us!
Also, as an FYI: in time, we will be able to transfer all of our old posts/content here to the new site, but that won't happen immediately. The priority is getting the new site up & running.
Our new site will undoubtedly look different from the current one, with a different layout and a shiny new Die By The Blade logo. (Reveal coming soon!) Initially, it also won't have many photos. Any photos attached to our old content will be gone – it's a licensing thing – but we are working on a new photo contract. At any rate, I don't think many people come for the photos, right?
We're also exploring some options for a new commenting system. Ghost's standard system doesn't allow for real-time commenting updates, which I know come in handy during game threads! Stay tuned.
Unfortunately, we will lose most of the FanPosts that have been written here. Due to SBN community regulations, they are unable to give us those archived files. The only FanPosts that will come with us to the new site are those that have been 'elevated' to the front page over the years. So, if you've written a FanPost you'd really like to save, please do that now.
Everyone will need to sign up for a new account through Ghost. We can't take any of the current community accounts – usernames, passwords, etc. – with us. Accounts are free & you will need one to comment on anything. There are also paid options if you are feeling generous and wish to support us on a recurring basis.
If you'd like to make a one-time donation, you can do so through GoFundMe.
In the coming days, we're also putting together some sponsorship packages to send to local businesses that may include logos on the new site, sponsorships of certain coverage (ie. draft coverage) and social media postings. The short-term goal is to have enough funds to sustain at our current budget – including paying contributors, new web hosting, etc. – which amounts to roughly $12,000 per year. (Yes, that feels like a big, scary number.)
We will also have merch available with our beautiful new logo, so stay tuned for that as well.
Exciting things ahead!