The Jack Eichel saga has a new twist today, as Elliotte Friedman of Sportsnet reports that the disgruntled Buffalo Sabres center will now be represented by Pat Brisson of CAA Sports. Eichel had previously been represented by Peter Fish and Peter Donatelli of Global Hockey Consultants.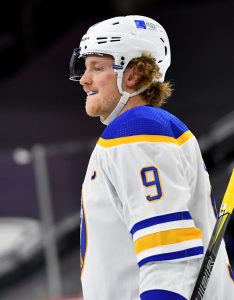 The move comes less than a month after his previous representation released a statement to various media outlets, indicating that they expected Eichel to be traded prior to the start of NHL free agency. That didn't seem to speed the process along at all, and as Mike Harrington of the Buffalo News wrote in a column earlier this month, it may well have made it more difficult for Sabres GM Kevyn Adams to complete a deal in the immediate aftermath.
Eichel is currently injured, and though both sides agree that surgery is required, the specific procedure is still a point of contention. It is not clear if there has been any movement on this front over the last few weeks, but a change in representation is significant nonetheless.
Brisson is not a small fish by any means, in fact, he is one of the leading power brokers among NHL agents. According to PuckPedia, he has negotiated more than $1 billion in active contracts and represents some of the most well-known stars in the game–Sidney Crosby, John Tavares, Jonathan Toews, Nathan MacKinnon, and Patrick Kane among them. Adding Eichel is obviously a win for the agency, but the player also now has even more power behind him.
Still, no matter how much juice his representation has, Eichel is still at the mercy of the Sabres at this point. Adams has been clear that the team will stay "in control of this process" and only trade their former franchise player when they receive an offer good enough. Fans of the team will be quite familiar with the concept of trading away disgruntled centers, and Adams is trying very hard not to have a repeat of the Ryan O'Reilly debacle of 2018.
That doesn't mean it will be easy. It's clear that while Eichel's time in a Buffalo uniform is likely over, there is no simple resolution to be had.
Photo courtesy of USA Today Sports Images