With free agency now less than a month away, many teams are already looking ahead to when it opens up.  There will be several prominent players set to hit the open market while many teams have key restricted free agents to re-sign.  New Buffalo GM Kevyn Adams will certainly have his work cut out for him as more than half of their players are in need of new contracts in the coming weeks.
Key Restricted Free Agents
F Sam Reinhart – Two years ago, the Sabres elected for a bridge contract to see if Reinhart had another gear in him.  While he hasn't quite reached a point per game level, he has emerged as a capable and consistent top liner.  He has reached at least 50 points in three straight seasons and had an outside shot at 60 had it not been for the pandemic which will help his arbitration case as will his increase in usage to over 20 minutes a night.  He's two years away from unrestricted free agency so this is the time where a long-term pact should be the focus for both sides.  There aren't a lot of core forwards in Buffalo right now beyond Jack Eichel and Jeff Skinner but Reinhart is certainly one of them.
F Victor Olofsson – It was a breakout season for the 25-year-old who went from being predominantly a minor leaguer to one of the top rookie scorers in the league with 22 goals and 20 assists in just 54 games.  His lack of NHL track record makes it difficult to find possible comparables which could make his arbitration case a little more interesting.  Normally, a bridge deal for a player in this situation coming off his entry-level deal would make sense but because he's an older rookie, a two-year pact would walk him right to unrestricted free agency.  There's no doubt that Olofsson will get a substantial raise on his salary from this season which was less than $800K but Adams is going to have to decide if he's ready to commit to a long-term deal or if a one-year contract is the better way to go.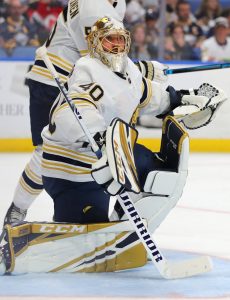 G Linus Ullmark – Ullmark has been Buffalo's possible goalie of the future for a while but it has yet to materialize into a goalie of the present situation.  Even with Carter Hutton struggling mightily, head coach Ralph Krueger saw fit to platoon the two so Ullmark only played in 34 games and while he has played in five separate NHL seasons, he still doesn't have 100 games under his belt.  At 27, he's a year away from UFA eligibility so another one-year contract that kicks the can down the road isn't an option anymore.  They may not be ready to commit a long-term deal but a two or three-year pact that buys a bit of team control and has a price tag around the $3MM mark might be palatable for both sides; it'd more than double his salary from this season without pricing themselves out of bidding for a starter down the road.
D Brandon Montour – It wasn't that long ago that Montour appeared to be a part of their long-term plans to the point where Buffalo gave up a first-rounder for him.  However, he struggled a bit under Krueger and his ice time fell as a result.  Add that to the flattened salary cap and there are questions about whether or not they should be tendering him his $3.525MM qualifying offer.  He's also a year away from UFA eligibility but it's at least possible that he hits the open market earlier than originally planned.  It wouldn't be surprising to see him in trade discussions in the coming weeks as a result.
Other RFAs: F Remi Elie, D Brandon Hickey, G Jonas Johansson, F Dominik Kahun, F Curtis Lazar, F Andrew Oglevie, D Matthew Spencer, F Tage Thompson
10.2(c) Players: F Casey Mittelstadt (ineligible for arbitration or an offer sheet)
Key Unrestricted Free Agents
F Wayne Simmonds – The decision to take a one-year deal came with mixed results for Simmonds.  While he landed more than he would have on a multi-year contract, he didn't rebound like he or New Jersey had hoped for and didn't improve upon being moved to Buffalo.  While he's only 32, he has shown signs of slowing down considerably the last couple of years and should now be looked as more of a depth player than the top-six option he has been for most of his career.  He should still have no difficulty landing a contract this offseason but it will be much cheaper than the $5MM he made this season.
F Jimmy Vesey – Last summer's trade to the Sabres didn't kick-start his offense.  Instead, his production took a nosedive as his nine goals and 20 points were both career lows; even had the pandemic not hit, that still likely would have been the case.  So instead of entering the market as a possible second liner, he's going to have to seek out an opportunity where he can play on an offensive-minded third line and hope to play his way up the lineup.  At 27, there should be a fair bit of interest but the flattened cap may limit his chances of beating his $2.35MM salary from this season.
F Zemgus Girgensons/F Johan Larsson – I've lumped these two together as they've followed somewhat similar trajectories thus far aside from Girgensons' voted in All-Star Game appearance.  They even are coming off of near-identical contracts, $1.6MM for Girgensons and $1.55MM for Larsson.  Both have spent seven years in Buffalo and have done well at times defensively but their offensive games haven't progressed much along the way.  There is a spot on the fourth line either with Buffalo or elsewhere but it may be hard to justify Adams bringing both of them back at a similar price tag but one of them re-signing could certainly happen.
Other UFAs: F Michael Frolik, D John Gilmour, G Andrew Hammond, D Matt Hunwick, F Taylor Leier, D Casey Nelson, F Vladimir Sobotka, F Scott Wilson
Projected Cap Space
With so many players needing new deals, there isn't much on the books right now; they have about $47MM tied up in 10 players, per CapFriendly.  That gives them plenty of flexibility to work with if ownership is willing to spend to the $81.5MM Upper Limit.  After they re-sign their restricted free agents, they'll have enough left to be players in free agency in the coming weeks.
Photo courtesy of USA Today Sports Images.