July 24: The deal is now official. The Sabres will receive Levi and a 2022 first-round pick in exchange for Reinhart. Panthers GM Bill Zito released a short statement on his newest forward:
Sam has established himself as one of the best playmaking scorers in the league, and we are thrilled to be able to add him to our Panthers lineup. His competitiveness and hunger to succeed will fit seamlessly with the culture we are building here in South Florida.
LeBrun adds that the first-round pick is top-10 protected. Should it end up that high, the Sabres will receive Florida's 2023 pick instead.
July 23: The Buffalo Sabres and Florida Panthers are working hard on a Sam Reinhart trade, according to Elliotte Friedman of Sportsnet. The Sabres already moved long-time defenseman Rasmus Ristolainen earlier today have been rumored to be ready to move on from both Reinhart and captain Jack Eichel this summer. The trade call is pending, but Pierre LeBrun of The Athletic confirms that Reinhart will be heading to Florida. Friedman notes that goaltending prospect Devon Levi will be going back to Buffalo as part of the return.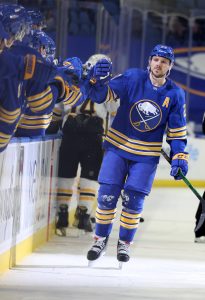 Reinhart, 25, has been one of the only beacons of consistency in a brutally inconsistent franchise over the past six seasons, posting somewhere between 17-25 goals and 40-65 points each season. Those numbers are even more impressive when you consider he played just 54 games this season, but still managed a 25-goal campaign.
Unlike Ristolainen, who is often blamed for a lot of the losing in Buffalo because of his negative possession statistics, Reinhart is seen as someone who could break out if given the chance in a better situation. He has been, however, the focus of some fan's ire because of a lack of effort at times, though that has been a common refrain for many of the Sabres that have been in Buffalo for several years, repeatedly missing the playoffs. He has also been given relatively prime opportunities for the Sabres, hardly ever being given much defensive responsibility despite playing nearly 20 minutes a night. Reinhart only really moved back to the center ice position this season, lining up more as a winger through his first several years in the league.
Still, for the Panthers, this will represent another win-now move for a team that was already among the best in the league in 2020-21. Florida went 37-14-5, but ran into the eventual Stanley Cup champion Tampa Bay Lightning in the first round of the playoffs. They fell in six games, failing to score a single goal in the deciding match. Reinhart represents a boost to that offense, and one that can be moved around the lineup depending on the rest of the moves the Panthers make this summer.
Like Sam Bennett though, a fellow 2014 draftee, Reinhart is a restricted free agent this offseason, and will be looking for a hefty contract. He is arbitration-eligible and just one year away from UFA status, meaning any multi-year contract will be expensive. If the Panthers believe he can be a core piece for them moving forward, that might make sense, but even a short-term deal could work for the team given how close they appear to contention.