Goaltending has long been a problem for the New Jersey Devils, to the point where general manager Tom Fitzgerald has to make a move of some sort this offseason. Because if they don't shore things up in net, it'll be hard for the team to take a step forward in 2020-21. 
Fortunately, there's a pretty decent group of goalies who'll be unrestricted free agents this offseason. Some of them will be on the expensive side, like Braden Holtby and Jacob Markstrom. But there should be a few more cost-effective options who'll be better fits as backups to Mackenzie Blackwood moving forward. Let's take a look at those who fit that criterion. 
Anton Khudobin
Khudobin has been the Dallas Stars' backup for the last two seasons and has put up fantastic numbers during that time. He finished with a .923 save percentage (SV%) last season and topped it with a .930 SV% in 2019-20. Before joining the Stars, he was the Boston Bruins' backup in 2017-18 and had a .913 SV% that season. 
Over the last three seasons, Khudobin's play has been worth a goals above replacement (GAR) of 36.7. That ranks 15th in the league among all goaltenders and is better than starters such as Andrei Vasilevskiy and Jordan Binnington. His goals saved above average (GSAA) of 34.26 ranks sixth in the league among goalies with 1000-plus minutes logged. Long story short, Khudobin can play. 
The Devils' SV% among goalies not named Blackwood was .885% this past season — Blackwood's SV% was .915%. They also had a 6-15-4 record in games Blackwood didn't start. Flip that around, and they would've made the 24-team, return-to-play format with ease.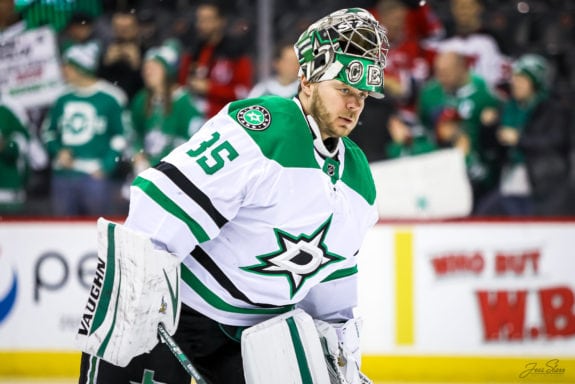 If the Stars don't re-sign Khudobin, he should be high on the Devils' list of UFA goalies. He can start around 30-35 games a season, which is what they need behind Blackwood. He made $2.5 million annually on his last contract, but it'll probably cost a bit more to sign him this time around. Still, a two-year deal worth $3.5 million annually won't be a problem for the Devils — who have $26 million in cap space — so that should not deter them from pursuing Khudobin. 
Corey Crawford
Crawford may be oft-injured, but he's still playing some solid hockey for the Chicago Blackhawks. He finished the 2019-20 season with a .917 SV%, as well as a GSAA of 9.14. He also played a significant role in helping the Blackhawks knock out the Edmonton Oilers in the play-in round. 
Over the last three seasons, Crawford has a .917 SV% and GSAA of 20.13, the latter of which ranks 13th in the league and is better than Markstrom, Binnington, and Semyon Varlamov. Crawford's play has been worth a GAR of 36.6 over that stretch, which sandwiches him between Khudobin and Robin Lehner. 
Related: Devils Should Stay Clear of Hoffman in Free Agency
It's clear Crawford can still play and help any team that chooses to sign him this offseason. The Blackhawks have cap trouble, though they'll likely find a way to make room to bring him back. But if they don't, he should be on the Devils' radar to bring in as a 1B to Blackwood. 
Crawford made $6 million annually on his last contract. It won't take anywhere near that much to sign him if he hits the open market next month. Nor will it take a long-term deal. If an affordable, short-term deal works, the Devils should give him a call when free agency begins. 
Thomas Greiss
Greiss has been the New York Islanders' backup since 2014-15. His results have been generally quite good, though they have gone back and forth over the last three seasons. He finished 2017-18 with .892 SV% and GSAA of minus-17.86, the latter of which ranked fifth-worst in the NHL. He then bounced back with arguably the best season of his career in 2018-19, as he finished with a .927 SV% and GSAA of 19.80 (that happened to be Barry Trotz's first season as the Islanders' head coach).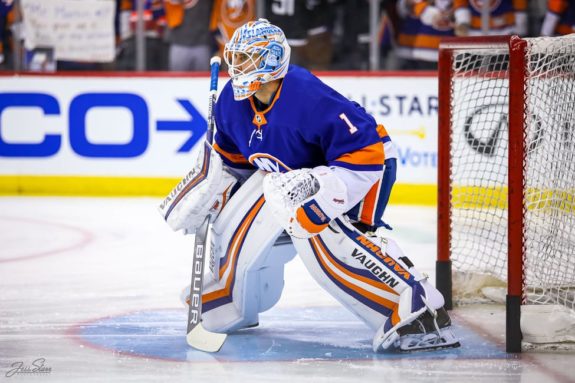 Though Greiss didn't play to those levels this past season, he still finished with a .913 SV% in 31 games played. His GSAA also fell to 2.89, but he played well for the most part, and he's looked good in a couple of starts during the playoffs. Overall, his play has been worth a GAR of 18.8 over the last three seasons, tying Carey Price for 34th-best in the league. 
With the Islanders' signing Ilya Sorokin to a $2 million contract for next season, there's a strong likelihood Greiss ends up hitting free agency. He's a popular choice among Devils fans on social media to sign as a backup behind Blackwood. The rationale makes sense, but I think there's a bit more risk to signing Greiss than some may think. 
Related: 6 Options for Devils at 20th Overall
For starters, he had the worst season of his career before Trotz took over behind the bench. The system Trotz has implemented with the Islanders seems to have helped all their goaltenders. It rejuvenated Lehner's career, as well as Varlamov's and Greiss'. 
Lehner's still one of the best goaltenders in the league since leaving the Islanders. Can Greiss continue to remain as one of the NHL's better backup netminders if he leaves? New Devils' coach Lindy Ruff doesn't seem intent on playing a defensive system like Trotz's, so it's not a guarantee. That's something to consider if you're the Devils. And given Greiss' poor 2017-18 before Trotz took over, it's a good enough reason to make Fitzgerald weigh other options seriously. 
Cam Talbot
Talbot has gone through some turmoil since a great 2016-17 with the Edmonton Oilers. He had a .893 SV% to start 2018-19, which led to the Oilers trading him to the Philadelphia Flyers at the 2019 Trade Deadline. He had just a .881 SV% while playing for the Flyers, though he only played in four games. 
But then came the Calgary Flames to the rescue. They signed Talbot to a one-year deal as a free agent last summer, and he had a strong rebound season, finishing with a .919 SV% and GSAA of 7.56, the latter of which was just .22 better than Blackwood's.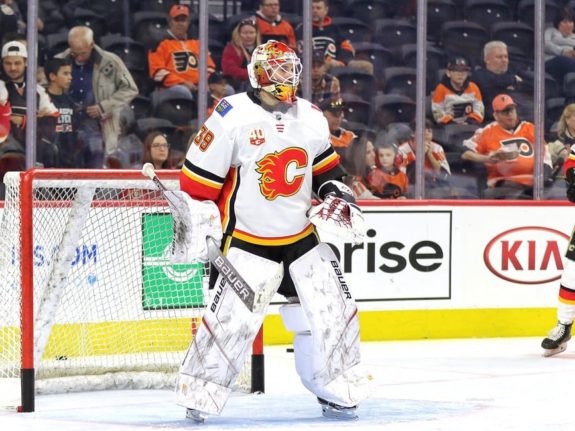 The Devils trying to acquire Talbot wouldn't be the first time they've attempted to do so recently. Per The Fourth Period, they may have had talks with the Oilers about Talbot at the 2019 Trade Deadline. Though Ray Shero, the general manager at the time of possible talks in 2019, is no longer with the Devils, Fitzgerald still is, so that front-office knowledge may help. 
Plus, Talbot began his career with the New York Rangers, so he has familiarity with the New York metropolitan area. Unlike trading for him, there are no assets to give up in free agency, so it wouldn't be a surprise if the Devils made a full-court press for him this offseason. 
Anton Forsberg or Laurent Brossoit
This scenario is a bit different from the other goalies mentioned here because of Cory Schneider, whose contract with the Devils runs for two more seasons, at a cap hit of $6 million. 
Schneider's play has declined significantly over the last few seasons, making it hard for the Devils to trade him. That leaves them with the option to buy him out, but that's not a guarantee to happen, at least this offseason. If they hang on to him, they'll need some insurance with a third goaltending option. And that's where Brossoit or Forsberg could be options. 
We'll start with Forsberg, who has 48 games of NHL experience under his belt. Most of that came with the Chicago Blackhawks during 2017-18 when he played in 35 games, including 30 starts, and had a .908 SV%. Since then, he's mostly played in the AHL, with the Charlotte Checkers being his most recent team — he had a .905 SV% playing for them this season.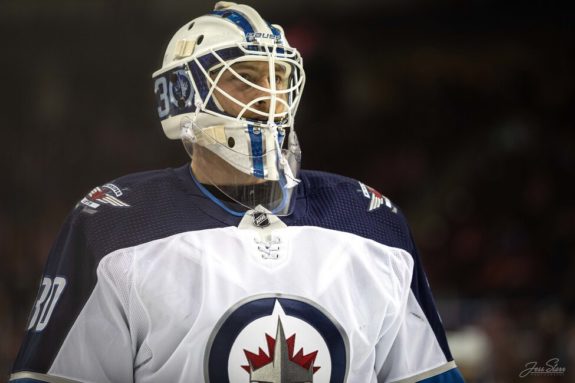 Brossoit, on the other hand, has been an NHL backup for a few seasons and has 70 career games played to his name. He's played in 54 games for the Winnipeg Jets since 2017-18 and has compiled a .905 SV%. He finished with a .925 SV% in 2018-19, as well as a GSAA of 9.76, the latter of which ranked 16th in the NHL. 
But Brossoit's overall performance has been inconsistent aside from 2018-19. He finished with a .883 SV% in 2017-18 and .895 SV% this past season. His GSAA in each of those seasons was minus-9.81 and minus-7.69. The Jets' defense was a mess in 2019-20, so maybe that factored into the dip in his play. Still, it's hard to know what the Devils would be getting in him. But he would be a decent third option if the Devils keep Schneider. 
Devils Should Avoid High-Priced UFAs
Besides the second and third-tier options, there'll be some big-time UFAs available in Holtby and Markstrom. Both are going to cost an exorbitant amount of money, specifically Markstrom, who's still at the top of his game. 
There are plenty of reasons why neither goalie is a fit for the Devils. They're not close to being Stanley Cup contenders. They don't fit into a Devils' roster that's trending younger (both Markstrom and Holtby are on the wrong side of 30). Nor should the team be looking to use a sizable percentage of their salary cap on a goalie when they have Blackwood. Holtby also seems to be in decline, so the Devils are just asking for trouble by signing him. 
The Devils' strategy should be this: they cannot ignore the position this offseason, but nor should they waste a ton of money in doing so. Talbot or Khudobin would be their best bets from the UFA market, assuming they don't have to overpay.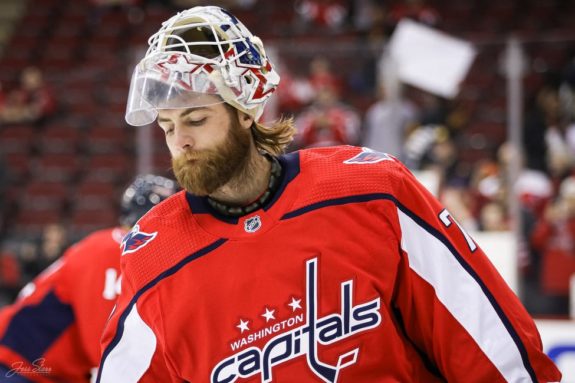 If not, Brossoit would be an inexpensive alternative to bring in as a third option behind Blackwood and Schneider. Brossoit is a bit of a wild card in the sense that you don't know what you're getting from him. But if he gives the Devils half what he did for the Jets in 2018-19, that'd be a noticeable improvement. That's how they'll win games they're supposed to win, which hasn't happened when Blackwood doesn't start. Otherwise, expect more of the same if they don't make any additions. 
---
---
* * *
Advanced stats from Natural Stat Trick, Evolving Hockey
The post Devils Can Address Goaltending Needs in Free Agency appeared first on The Hockey Writers.