College Football Week 9 brings some huge games this weekend. A few will have major College Football Playoff race ramifications.
The first, FOX's pick for its "Big Noon Saturday" game, lost a bit of its luster last weekend. Wisconsin fell to Illinois in one of the biggest upsets of the season so far.
The Badgers looked every bit a Playoff contender before that game in Champaign. This weekend's game against Ohio State in Columbus still has the look of a Big Ten Championship preview. If Wisconsin can beat the Buckeyes twice and win out, they'll have a strong case to make it. We've seen teams overcome bad upset losses before and still make the field.
The Buckeyes have no such loss to overcome. OSU is undefeated and has looked like one of the four best teams in the country.
Beyond that, we have a pivotal SEC West game between a pair of top 10 teams in LSU and Auburn. The Bayou Bengals aren't really in need of a statement win, but would score yet another by taking down Auburn, heading into the pre-Alabama bye week.
Notre Dame at Michigan highlights the night game. Neither team is really in the national discussion right now, but it is another spot for Jim Harbaugh to try and score an elusive Top 10 win against a hated rival. Bettors have been all over Notre Dame on the road in that one.
Our weekly staff picks contest got another big shakeup last week. Here's where things stand:
T-1. Dan Lyons: 244-68
T-1. Stephen Driscoll: 244-68
3. Andrew McCarty: 241-71
T-4. Matt Hladik: 240-72
T-4. Tzvi Machlin: 240-72
T-4. Alek Arend: 240-72
7. Chris Rosvoglou: 237-75
8. Andrew Holleran: 236-76
9. Matt Lombardi: 233-79
This week, our biggest splits come in these games: Miami at Pitt, Liberty at Rutgers, Virginia at Louisville, Arizona at Stanford, Texas Tech at Kansas, South Carolina at Tennessee, and Notre Dame at Michigan.
Things kick off tonight, with No. 16 SMU, one of the best Group of Five teams in the country, at Houston.
Here are our picks for College Football Week 9: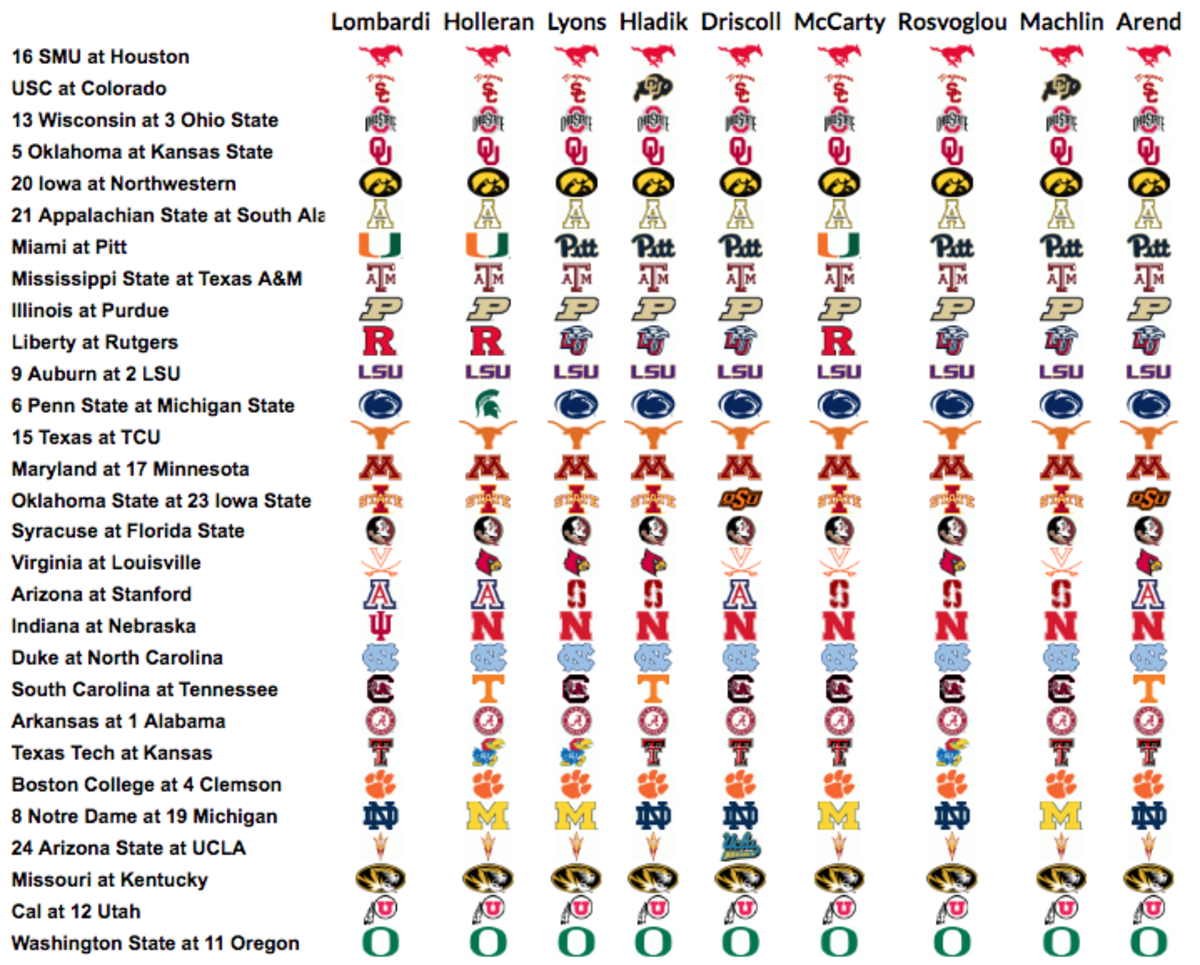 Every week, we pick each game involving Power Five and other Top 25 programs. Check back to see how the contest, which often comes down to the final slate of games, shakes out.
The post The Spun's 2019 College Football Staff Picks: Week 9 appeared first on The Spun.