Rivalry week is here. Starting on Thanksgiving Day tomorrow, and running through Sunday, many of college football's biggest rivalry games will be played, with serious postseason implications on the line.
On Thursday, we get the always contentious Egg Bowl. Ole Miss' Matt Luke and Mississippi State's Joe Moorhead both have plenty on the line, even if Luke will reportedly be back next year. MSU needs one more win for bowl eligibility.
Friday features a de facto ACC Coastal title game between Virginia and Virginia Tech, Iowa vs. Nebraska with a bowl on the line for the Huskers, a huge AAC game between Cincinnati and Memphis, and the Apple Cup between Washington and Wazzu.
Saturday could be the biggest day of the whole year. From the Iron Bowl to Ohio State vs. Michigan to a giant Minnesota-Wisconsin game to decide the Big Ten West, it will be an incredibly consequential day of football.
Here's where things stand for our weekly college football staff picks after 13 weeks. Things remain extremely tight at the top, and there's a very good chance things come down to the Army-Navy Game on Dec. 14:
1. Dan Lyons: 364-106
2. Andrew McCarty: 363-107
3. Andrew Holleran: 358-112
4. Tzvi Machlin: 357-113
T-5. Matt Hladik: 356-114
T-5. Stephen Driscoll: 356-114
7. Alek Arend: 355-115
8. Chris Rosvoglou: 350-120
9. Matt Lombardi: 347-123
Our biggest splits this weekend come in the Egg Bowl, the Governor's Cup between Kentucky and Louisville, and Cal-UCLA, the final Power Five game that will kick off on Saturday night.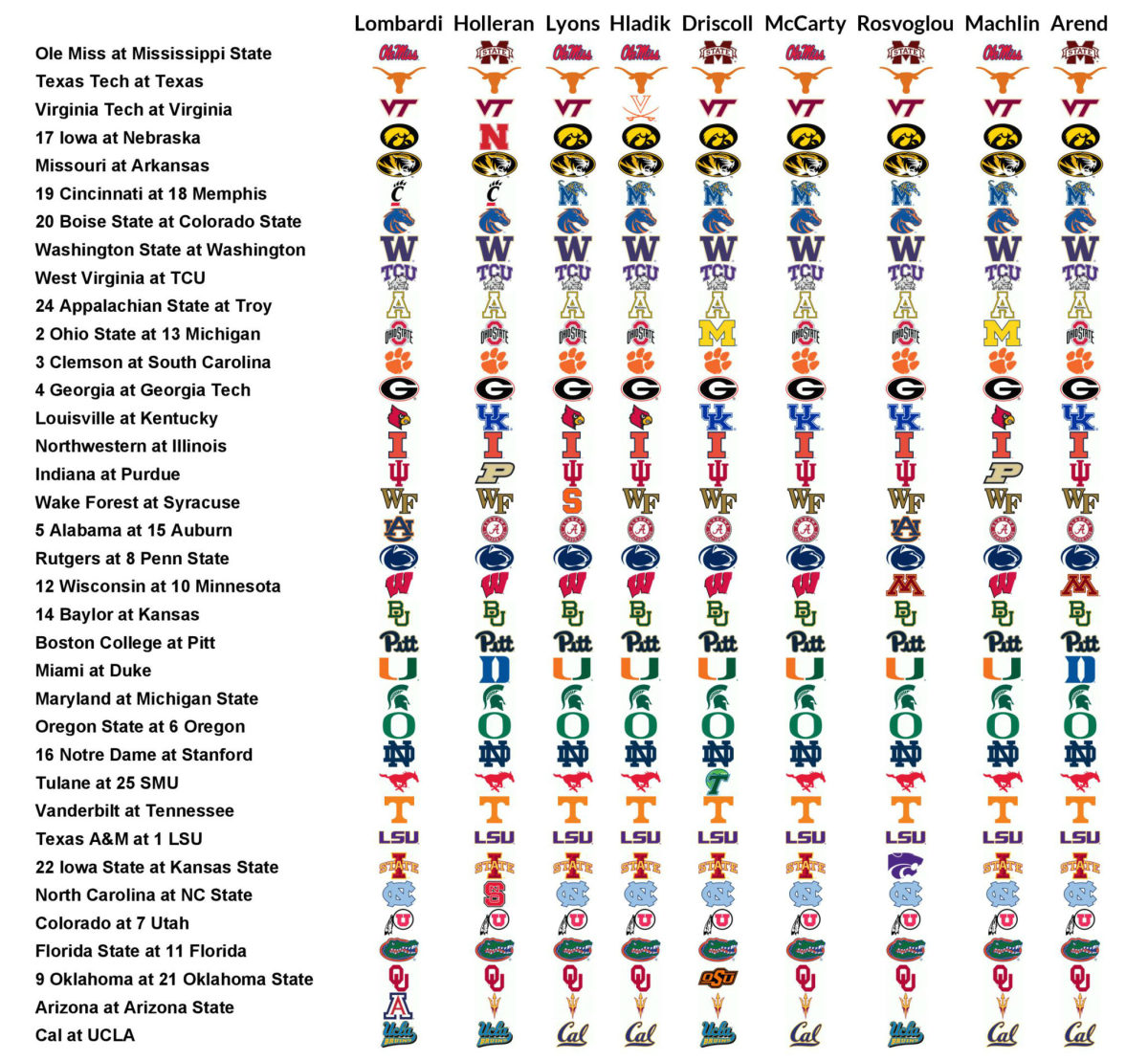 Every week, we pick each game involving Power Five and other Top 25 programs. Check back to see how the contest, which often comes down to the final slate of games, shakes out.
The post The Spun's 2019 College Football Staff Picks: Week 14 appeared first on The Spun.