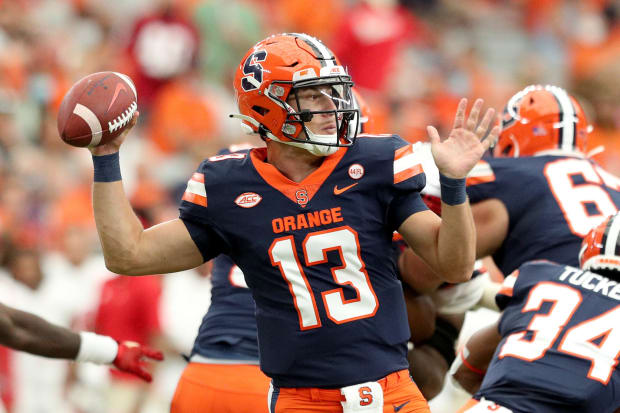 Last month, former Syracuse quarterback Tommy DeVito announced his intention to transfer to Illinois for the 2022 season.
On Thursday, the program confirmed that the former four-star recruit is now a member of the Fighting Illini.
The Illinois football Twitter account
Welcome to the #famILLy, @tommydevito007#Illinipic.twitter.com/ypUXreUtt8
— Illinois Football (@IlliniFootball) January 27, 2022
">shared a photo of DeVito in team apparel in a tweet on Thursday afternoon. The post welcomed the New Jersey native to Champaign.
"Welcome to the #famILLy, @tommydevito007," the football team wrote.
DeVito first announced in mid-December that he planned to transfer to Illinois after a frustrating season at Syracuse. He was replaced by a more mobile option in Garrett Shrader four games into the year and actually left the program a few weeks later.
DeVito ended his abbreviated 2021 season having completed just 50% of his passes for 593 yards, four touchdowns and two interceptions. The Orange went on to finish 5-7.
Syracuse first welcomed DeVito to the program as a four-star recruit back in 2017. He didn't play much during his first two season, but burst onto the scene in 2019 when he threw for 2,360 yards.
Unfortunately, injuries sidetracked DeVito's 2020 and he was never quite able to get back to the same level of success that he achieved during his early years with the Orange.
At Illinois, DeVito should have a chance to compete for the starting job. The Illini are losing starter Brandon Peters, but will have former Rutgers transfer Artur Sitkowski back on the roster in 2022.
Illinois is fresh off of a 5-7 season of their own under head coach Brett Bielema, who just wrapped up his second year with the team. With DeVito on his way in, the Illini will hope to improve upon that mark next fall.