The Vikings' starting lineup will look considerably different this season. After the team kept signing its core members to extensions over the past few offseasons, it dismantled some of that nucleus this year. While the exits of Xavier Rhodes, Linval Joseph and Trae Waynes were noticeable, none of Minnesota's moves registered like the Stefon Diggs deal.
Diggs is Buffalo-bound after the Vikings traded him for a package of picks headlined by this year's No. 22 overall selection, which became LSU wideout Justin Jefferson. Despite entering another offseason near the salary cap, and with Diggs having created some distractions during his Twin Cities stay, Mike Zimmer said the team was not intent on trading its talented wideout.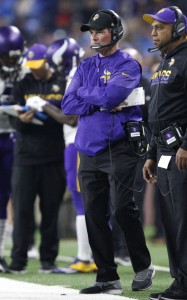 "Honestly, Diggs did not have to go," Zimmer said during an appearance on The Rich Eisen Show (via NFL.com). "We really didn't have any intention of trading him. Quite honestly, he put out a couple tweets, and there were some things going on there. But Stefon worked extremely hard. He practices like crazy. He wants the ball — like all receivers do.
"Really, what happened was, Buffalo came in and gave us all those picks. And we were up against it in the salary cap. So we just felt like we could save some money, get a bunch of picks, maybe get a young receiver like (Jefferson) that we got. So, I wish him well. He's a good kid. He worked hard for me."
The Bills sent the Vikings 2020 first-, fifth- and sixth-round picks and a 2021 fourth-rounder for Diggs, who is signed to a $14.4MM-per-year deal through 2023. This haul ended up being similar to the one the Seahawks sent the Vikings for Percy Harvin seven years ago. Seattle dealt first-, third- and seventh-rounders for Harvin in 2013, and the Vikings used the top pick to draft Rhodes. This time, Minnesota used the top acquired asset to fill the void created by the receiver trade, and Jefferson will be tasked with filling Diggs' spot alongside Adam Thielen.
Buffalo discussed Diggs with Minnesota before last year's trade deadline, and the Vikings were believed to have softened their asking price when the teams talked again in March. Diggs missed practices last season and was believed to be dissatisfied with his role, leading to trade rumors. This and Diggs' pre-trade tweets suggesting he was not long for Minnesota notwithstanding, Zimmer did not characterize the five-year Viking as a major problem.
"Really, if you said somebody was a pain in the butt, you probably wouldn't say him," Zimmer said. "I've been around way worse guys than him. I hope he has a great career and finishes up strong."
Photo courtesy of USA Today Sports Images.