Few modern-era NFL players sign six-year contracts. Almost none play out those deals. Von Miller became a major exception, signing a then-defender-record contract in 2016 and playing it out.
Miller, 33, made four straight Pro Bowls on his six-year, $114.1MM extension, anchoring several Broncos defenses held down by the franchise's perennial issues at quarterback. Following a full-season absence in 2020, Miller returned to form last season by helping the Rams to their second Super Bowl title. This led to a strong free agent market, one that wrapped with the Bills giving the future Hall of Famer a six-year, $120MM accord.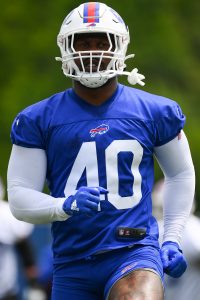 The Buffalo deal includes $45MM fully guaranteed but features no guaranteed money after 2024. It also includes a considerable final-year pay bump to bring the AAV to $20MM. But Miller, rather than identifying a retirement window during this lengthy contract, wants to be with the Bills over the duration of the through-2027 deal.
"This is a six-year deal, so I'm looking forward to playing the whole thing," Miller said, via the Buffalo News' Mark Gaughan. "I'm trying to play the whole thing out. Tom Brady's done it; Bruce Smith has done it. All the guys that I look up to when it comes to longevity in careers. So I just take it one day at a time, and I'm just gonna take whatever God gives me. My intention is to play the whole thing out. I'm a real sicko when you get to know me. My mindset is different."
This is not the first time Miller has referenced Smith, nor is it the first time he has discussed playing well into his late 30s. The All-Decade defender worked as a vital part of the Rams' Super Bowl push, registering nine sacks in the team's final eight games — including two in Super Bowl LVI. The Bills beat out aggressive Rams interest for the star edge rusher's services, bringing in the Broncos' all-time sack leader to add an anchor to a pass rush that has lacked one for years.
Although only Mario Addison collected six or more sacks at 33 or older last season, there have been 71 double-digit sack seasons since 1960 (though sacks are only official post-1982). Hall of Famers Smith, Reggie White and Kevin Greene are among those to remain prolific sackers into their late 30s, while Julius Peppers provides a recent example of such production (48 sacks from his age-33 season on). Miller ranks 22nd on the NFL's official all-time sack list, with 115.5. The former Super Bowl MVP is 22 away from the top 10. Miller has 10.5 sacks in the playoffs (12th in the sack era). Willie McGinest's 16 are the most by sack-era players. The Bills are obviously hoping their hired gun will add a few more to that total in the coming years.
The Bills are counting on Miller to stay on course, employing rookie-contract defensive ends (Gregory Rousseau, Boogie Basham and A.J. Epenesa) around him. The team did bring back Shaq Lawson and Jordan Phillips and signed ex-Washington D-tackle Tim Settle to round out this D-line retooling effort, however.
It remains unlikely Miller will play out another six-year deal. The Bills should be expected to move on at some point in the mid-2020s. If Miller does thrive for a few years on this pact, the sides reaching another deal would likely be in play.