Two years ago, the Bills moved on from their bizarre saga with Richie Incognito. They released the offensive lineman from the reserve/retired list, paving the way for him to play for another team. At the time, no one knew whether the veteran would get that opportunity.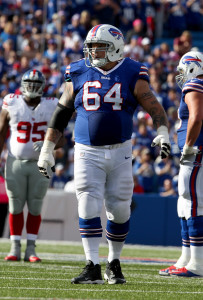 Incognito, a four-time Pro Bowler and one of the league's best guards, made headlines for all the wrong reasons throughout his career. In 2013, he was alleged to have bullied and disparaged Dolphins teammate Jonathan Martin, which prompted Martin to leave the team and the NFL to suspend Incognito. After missing half of '13 and all of '14, he returned to the league with the Bills.
On the field, Incognito continued his excellence. He played every single snap for the Bills in 2015, earned a fresh ~$16MM deal prior to 2016, and graded out as one of the league's best guards in 2017. The advanced metrics showed that Incognito was elite throughout those three years in Buffalo – he placed No. 2, No, 7, and No. 12 in the league in each of those seasons, according to Pro Football Focus.
Then, things turned once again. In March of 2018, Incognito agreed to rework the remainder of his contract, cutting his base salary in half. Weeks later, he fired his agent via Twitter. Then, Incognito retired, citing health issues and dissatisfaction with his deal.
"It pisses me the [expletive] off," Incognito said. "The contract and all that pissed me [off] and all that, but (retiring) has nothing to do with that."
The Bills placed Incognito on the retired list on April 12, 2018. On April 15, 2018, he requested his release. Then, on May 21, 2018 – about six weeks after Incognito announced that he was done with football – the Bills granted his request. Two days after that, Incognito caused a scene at a gym in Florida and told police that he believed he was being tracked by FBI agents for his possession of secret NSA documents. One psychiatric hold and a few months later, Incognito was arrested at an Arizona funeral parlor for threatening employees who refused to cut off his father's head, which he wanted for research purposes.
Most in the football world figured that would mark the end of Incognito's career, but Jon Gruden gave him another chance to play last year. Towards the end of another strong season, the Raiders inked the veteran to a two-year, $14MM deal, set to begin this fall.
Photo courtesy of USA Today Sports Images.