With Brian Daboll off to the Giants as their newest head coach, the Bills continue to search for a new offensive coordinator. The second name on the list of candidates is Tee Martin, the Ravens' wide receivers coach, who is set to meet with Buffalo for the vacancy (Twitter link via The Athletic's Jeff Zrebiec). Not long after that came out, ESPN's Dan Graziano tweeted that Edgar Bennett, who holds the same title with the Raiders, will also interview for the role.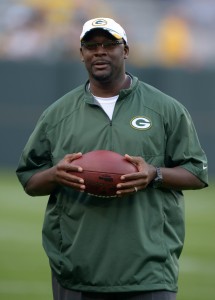 [Related: Ken Dorsey To Be Considered For Bills, Giants OC Jobs]
The Martin announcement was made by Ravens HC John Harbaugh when he addressed the media on Monday. Martin, 43, has only been an NFL coach for this past season. He has a decorated college resume, though, highlighted by work as the wide receivers coach at Kentucky, USC and Tennessee dating back to 2010. Those stints have also included the roles of passing game coordinator, OC and assistant head coach along the way. The 2021 season, while disappointing overall for the Ravens, offered cause for optimism at the receiver position with Marquise Brown recording his first 1,000-yard season and Rashod Bateman demonstrating, once he was healthy, why he was worthy of a first round pick.
Bennett has been an NFL coach since 2005, the year he started working in Green Bay. That lasted until 2017, and included a three-year stint as the team's OC. Part of a major overhaul on the offensive staff in 2018, the 52-year-old was let go in January of 2018. For the past four years, he has been the WRs coach with the Raiders; the 2021 campaign saw Las Vegas rank sixth in the league in passing yards.
These announcements come after it was reported that Ken Dorsey, the quarterbacks coach and passing game coordinator for the Bills, would likely be promoted to OC with Daboll gone. The only alternative, it is believed, would be if Daboll convinced Dorsey to follow him to New York. With Buffalo looking at two external candidates, the team will have options if that does in fact happen.