The Bills and star QB Josh Allen are talking extension, but as of right now, there is no momentum towards an agreement, as Kim Jones of the NFL Network reports (Twitter link). However, Allen himself is not sweating it, calling his contract situation the "least of my worries."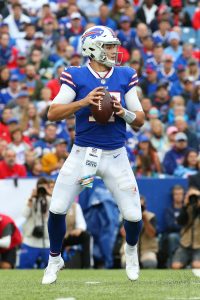 That is because Allen knows it's a question of when, not if, he gets his mega-deal. Jones suggests that, if a new contract is not in place by the middle of August, the two sides could table negotiations until next offseason, but that scenario would hardly threaten Allen's future in Buffalo. Because the Bills have exercised Allen's fifth-year option, the big-armed passer is under contract through 2022, and the franchise tag is a theoretical option for 2023 if it comes to that (of course, the Cowboys' protracted talks with Dak Prescott demonstrated the danger of that approach).
Allen has expressed a willingness to give the Bills a team-friendly structure on his second pro contract, but that doesn't mean he will be willing to take a discount. He is in line to eclipse Prescott's four-year, $160MM pact, which includes $126MM in guaranteed money. A deal of that magnitude certainly is a complex undertaking, though the Bills and Allen have plenty of time to continue discussing it.
As our Ben Levine detailed last month, Allen might prefer to get something done sooner rather than later. After all, it's hard to imagine him improving on his incredible 2020 campaign, and while draftmate Lamar Jackson might drive Allen's price a little higher if Jackson signs his extension first, it's unlikely to make too much of an impact. And an earlier report noted that Allen is willing to operate independently of Jackson and Browns' QB Baker Mayfield, suggesting that Allen is indeed prepared to put pen to paper before his fellow young signal-callers.
On the other hand, we don't know the type of offer the Bills have on the table at this point — maybe they're trying to keep the price down by pointing to Allen's inconsistencies in 2018-19. And if they're not willing to give up Prescott money just yet, Allen could continue to wait them out.
Photo courtesy of USA Today Sports Images.