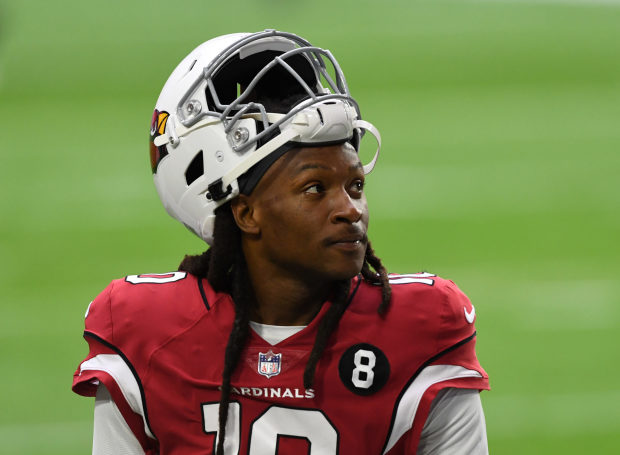 There have been heavy rumors involving a potential DeAndre Hopkins trade going down sometime this offseason. 
During Thursday's episode of The Pat McAfee Show, former NFL star Adam "Pacman" Jones provided an update on the situation.
"My sources tell me that D-Hop is getting hot right now," Jones said. "Interest is heating up. There's five teams on that list."
Jones named the Falcons, Ravens, Bills, Raiders and Patriots as possible landing spots for the veteran wide receiver — but gave the advantage to Baltimore and Buffalo.
"I'm leaning more toward the Bills or the Ravens," Jones said.
Source(s) have some DHop information..

"There's five teams in on DHop and my source(s) tell me that Buffalo could work"@REALPACMAN24 #PMSLive pic.twitter.com/f8iV6lbV29

— Pat McAfee (@PatMcAfeeShow) March 23, 2023
Recent reports indicated that the Cardinals are asking for a second-round pick and another asset in exchange for Hopkins. But, it appears that high asking price is not doing it for teams around the league.
According to NFL insider Albert Breer, any possible Hopkins trade would likely yield something similar to the Cowboys' recent trade for Brandin Cooks: fifth and sixth-round picks.
Through nine games last season, Hopkins, 30, reeled in 64 catches for 717 yards and three touchdowns.