Things move fast in today's NFL and the old adage of "coaches are hired to be fired" has seemingly never been more true. For the most part, teams change their coaches like they change their underwear.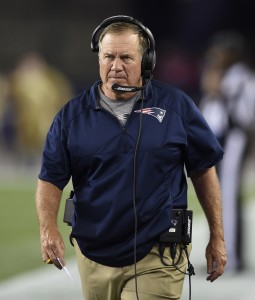 A head coach can take his team to the Super Bowl, or win the Super Bowl, or win multiple Super Bowls, but they're never immune to scrutiny. Just ask Tom Coughlin, who captured his second ring with the Giants after the 2011 season, only to receive his pink slip after the 2015 campaign.
There are also exceptions. Just look at Bill Belichick, who just wrapped up his 20th season at the helm in New England. You'll also see a few others on this list, but, for the most part, most of today's NFL head coaches are relatively new to their respective clubs. And, history dictates that many of them will be elsewhere when we check in on this list in 2022.
Over one-third (12) of the NFL's head coaches have coached no more than one season with their respective teams. Meanwhile, less than half (15) have been with their current clubs for more than three years. It seems like just yesterday that the Cardinals hired Kliff Kingsbury, right? It sort of was – Kingsbury signed on with the Cardinals in January of 2019. Today, he's practically a veteran.
Here's the list of the current head coaches in the NFL, ordered by tenure, along with their respective start dates:
Bill Belichick (New England Patriots): January 27, 2000
Sean Payton (New Orleans Saints): January 18, 2006
Mike Tomlin (Pittsburgh Steelers): January 27, 2007
John Harbaugh (Baltimore Ravens): January 19, 2008
Pete Carroll (Seattle Seahawks): January 9, 2010
Andy Reid (Kansas City Chiefs): January 4, 2013
Bill O'Brien (Houston Texans): January 2, 2014
Mike Zimmer (Minnesota Vikings): January 15, 2014
Dan Quinn (Atlanta Falcons): February 2, 2015
Doug Pederson (Philadelphia Eagles): January 18, 2016
Sean McDermott (Buffalo Bills): January 11, 2017
Doug Marrone (Jacksonville Jaguars): December 19, 2016 (interim; permanent since 2017)
Anthony Lynn (Los Angeles Chargers): January 12, 2017
Sean McVay (Los Angeles Rams): January 12, 2017
Kyle Shanahan (San Francisco 49ers): February 6, 2017
Matt Nagy (Chicago Bears): January 7, 2018
Matt Patricia (Detroit Lions): February 5, 2018
Frank Reich (Indianapolis Colts): February 11, 2018
Jon Gruden (Las Vegas Raiders): January 6, 2018
Mike Vrabel (Tennessee Titans): January 20, 2018
Kliff Kingsbury (Arizona Cardinals): January 8, 2019
Zac Taylor (Cincinnati Bengals): February 4, 2019
Vic Fangio (Denver Broncos): January 10, 2019
Matt LaFleur (Green Bay Packers): January 8, 2019
Brian Flores (Miami Dolphins): February 4, 2019
Adam Gase (New York Jets): January 11, 2019
Bruce Arians (Tampa Bay Buccaneers): January 8, 2019
Ron Rivera (Washington Redskins): January 1, 2020
Matt Rhule (Carolina Panthers): January 7, 2020
Mike McCarthy (Dallas Cowboys): January 7, 2020
Joe Judge (New York Giants): January 8, 2020
Kevin Stefanski (Cleveland Browns): January 13, 2020
Photo courtesy of USA Today Sports Images.