Earlier this offseason, Bills safety Jordan Poyer changed agents and approached the team in the hopes of signing a new contract. That decision led to a storyline which has remained largely unchanged throughout the spring and into the summer.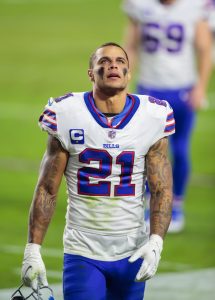 [RELATED: Examining A Poyer Extension]
The 31-year-old skipped OTAs amidst his desire for a renegotiated pact. An extension would add some security for both sides, as Poyer is only under contract for one more season. The value of that deal ($5.6MM) represents, of course, another reason why he would be seeking a new accord. Poyer was named a First-Team All-Pro in 2021, matching his career-high with five interceptions and continuing his consistent level of play which has been seen throughout his tenure with the Bills.
While the former seventh-rounder (who attended mandatory minicamp) will earn far less than many other top safeties in 2022, a restructure to his current deal pushes his cap hit to over $10.7MM. That could provide further incentive on the team's part to work out an extension, something which would likely happen around training camp later this month. Fortunately for Buffalo, Poyer is doubling down on his intentions of remaining with his current employer.
When appearing on the Inside the Garage podcast recently, he said, via Pro Football Talk's Josh Alper, "I can't really think of a better situation for me to be in than Buffalo right now." Part of the reason for that, as he stated, is the presence of fellow safety Micah Hyde, who has teamed with Poyer to great success with the Bills and is under contract for two more seasons. If talks progress either before or during the upcoming season, Poyer could continue to be a key contributor on one of the league's top contenders for at least the short-term future.