The Giants' short list of head coaching candidates includes former Dolphins HC Brian Flores and Bills offensive coordinator Brian Daboll, according to sources who spoke with Ralph Vacchiano of SNY. Of course, the eventual successor to Dave Gettleman is expected to lead the search, as John Mara recently said that the GM will have "the flexibility to bring in the head coach that he wants."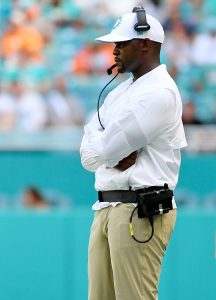 [RELATED: Latest On Giants' Firing Of Joe Judge] 
Both Daboll and Flores have been discussed internally for a while, according to Vacchiano. It also helps that "several" of the Giants' nine GM candidates also hold them in high regard.
As of this writing, the Giants are considering current assistant GM Kevin Abrams, 49ers director of player personnel Ran Carthon, Titans exec Ryan Cowden, Cardinals exec Quentin Harris, Ravens director of player personnel Joe Hortiz, Titans director of player personnel Monti Ossenfort, 49ers AGM Adam Peters, Chiefs executive director of player personnel Ryan Poles, Cardinals exec Adrian Wilson, and Bills AGM Joe Schoen.
It's safe to assume that Schoen has Daboll on the list while Abrams — a longtime member of the Giants' front office — surely helped to shape the team's view of both Daboll and Flores. Still, according to one report, Abrams is no longer viewed as a frontrunner. Apparently, the momentum lies with out-of-house candidates like Hortiz, who has serious momentum following his interview, according to Ryan Dunleavy of the New York Post.
Flores, 40, is already in the mix for the Texans and Bears jobs. Vacchiano hears that the Brooklyn native is looking for a team that will commit to his vision. That's worth keeping in mind here, given the Giants' quick hook for their last few coaches.
Daboll, 46, was in consideration last time around, before the Giants ultimately hired Joe Judge. Judge even expressed interest in making Daboll his OC, but the Bills blocked his request. The Giants ultimately went with Jason Garrett, who was fired in November.
Photo courtesy of USA Today Sports Images.