Lee Smith managed to play tight end in the NFL for 11 seasons, despite none of those including 100 receiving yards. The well-regarded blocker announced his retirement Tuesday.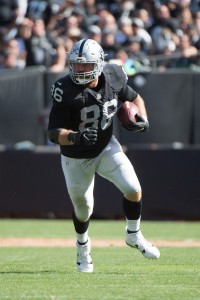 Smith spent his NFL days with the Bills, Raiders and Falcons, playing in Atlanta for one season. He will walk away after 16 games with the Falcons, having assisted in Cordarrelle Patterson's late-career running back breakout.
"I couldn't feel more blessed that I get to step away on my terms," Smith said, via AtlantaFalcons.com's Scott Bair. "It just doesn't happen that way very often. Yet here I am, a stiff-as-hell fifth-round draft pick who found himself a niche-y role and figured out a way to stay around."
A 2011 Patriots draftee out of Marshall, Smith landed with the Bills via waiver claim that September. He signed a three-year, $9MM deal with the Raiders in 2015. In Oakland, Smith worked alongside a three-Pro Bowler offensive line to help Latavius Murray to a 1,000-yard season. The Raiders re-signed him in 2018, but Smith rejoined the Bills a year later — on another three-year deal worth $9MM — and was part of the team's resurgence.
Buffalo traded Smith to Atlanta during the 2021 offseason. Although the Falcons rostered Hayden Hurst and top-five pick Kyle Pitts, Smith played 311 offensive snaps this season. Smith finished his career with 73 catches for 523 yards and 11 touchdowns.