While the Bills quickly extended Josh Allen for more than $250MM last offseason, another first-round pick from that 2018 draft class remains unsigned. Bills linebacker Tremaine Edmunds is heading into the final year of his five-year rookie pact, but there hasn't been much reported progress regarding an extension.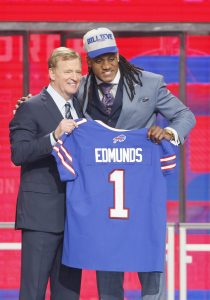 Following a 100-plus-tackle season as a rookie and Pro Bowl nods in both 2019 and 2020, Edmunds seemed to be setting himself up for a sizable deal. The linebacker was still productive in 2021, but he finished with a career-low 108 tackles and only one QB hit. Pro Football Focus wasn't particularly fond of his performance this past season, ranking him 61st among 87 eligible linebackers (although, for what it's worth, the site has never been a fan of Edmunds).
2022 will ultimately be a key year when it comes to Edmunds' earning potential. The 24-year-old was graded as one of the league's better run-stopping linebackers, but he was among the worst in coverage, so an improvement in that area could good a long way in Edmunds securing a hefty contract. The linebacker's coaches have also been focused on improving the player's big-play ability; through 61 career games, Edmunds has four interceptions (half coming in his rookie season), two forced fumbles (both coming in his rookie year), and 5.5 sacks (including zero in 2021).
"I think – and he knows this – you want more splash plays," defensive coordinator Leslie Frazier recently told Katherine Fitzgerald of The Buffalo News. "You want those big plays in ball games. That play he made against the Texans, the interception he came up with, that was a huge play in that ballgame. It really helped propel us along the way to a really good performance. And more plays like that."
So what could Edmunds expect for his next contract? Two linebackers selected in the second round of the 2018 draft inked massive extensions with their teams. Darius Leonard got five years, $99.25MM ($52.5MM) from the Colts, but he's firmly established himself as one of the top players at the position. Harold Landry signed a five-year, $87.5MM ($52.5MM guaranteed) deal with the Titans, but Edmunds hasn't come close to matching Landry's pass-rushing prowess. Either the player's camp or the Bills could be waiting to see how negotiations unfold for Bradley Chubb and/or Roquan Smith; both linebackers were off the board before Edmunds in 2018.
If the LB franchise tag remains around $18MM next offseason, then that could be a logical route if the two sides don't seem destined for an extension. The player is also set to make a bit less than $13MM in 2022. An extension worth $15MM per year seems to make sense from a financial standpoint, but it'd be a bit surprising if either side was willing to compromise on that number right now…the Bills could be eyeing a discount with the risk of paying $18MM in 2023, while Edmunds may not be willing to settle for a, say, four-year deal worth $60MM when he has the potential to make much more following a strong 2022 campaign.
Fortunately, while Edmunds may have to wait until the end of the season to sign his next deal, his head seems to be in the right place.
"Obviously, you think about it a little bit, but I can't control that," Edmunds said in early June (via Fitzgerald). "All I can control is how I come out each and every day, and just work. All that kind of stuff, you kind of just put it on the top shelf and do the stuff that you've been doing this whole time."