Von Miller chose the Bills in free agency, signing a six-year deal worth $120MM. The contract included $45MM guaranteed at signing and $51.4MM in total guarantees. The Bills needed to come in with an offer that lured Miller away from Los Angeles and kept him out of Dallas. Both the Cowboys and Rams made strong runs at the future Hall of Fame edge rusher.
Placing a "90%" expectation on the likelihood he would re-sign with the Rams, Miller broke down (via The Athletic's Dan Pompei; subscription required) the difference in the Rams' and Cowboys' offers compared to the one that convinced him to move to Buffalo.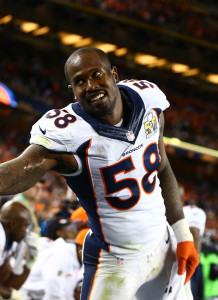 Miller's Bills contract hit $20MM per year, but a nonguaranteed $29.6MM base salary in the contract's final season inflated the overall value and per-year salary. The Rams offered Miller a three-year deal he said included a higher through-2024 AAV compared to the Bills' proposal, but the 12th-year veteran added Los Angeles was only willing to include guarantees through two years. The Bills pushing guaranteed money into Year 3 — Miller's age-35 season — persuaded the perennial Pro Bowler to make an unexpected move east.
After seeing Randy Gregory renege on their offer, the Cowboys did focus on Miller, a Dallas-area native. They offered Miller the same five-year, $70MM deal Gregory had turned down — due to language tied to guarantee voiding. That proposal came with two years guaranteed, Pompei notes. Miller's Bills deal includes the fifth-most fully guaranteed money among edge rushers. Gregory's Broncos pact (also five years and $70MM) ranks 24th on that list, with $28MM fully guaranteed.
"I told them I was ready to come to the Cowboys," Miller said. "I would have taken less to go to Dallas because it's Dallas. But I wouldn't take that much less."
The Cowboys, who had reached a new agreement to retain DeMarcus Lawrence, ended up giving Dante Fowler a low-cost accord and drafting Sam Williams in the second round. They also re-signed Dorance Armstrong.
The third team Miller was interesting in joining (again) did not show interest. He of eight Pro Bowls as a Bronco, Miller was frequently asked to stump for whatever quarterback the team acquired that offseason. While the Rams were still in the playoffs, Miller sent word to the Broncos that a trade for Aaron Rodgers or Russell Wilson would put him on board to come back. Miller then teased a Denver return on social media in the offseason. The Broncos had traded Miller to the Rams at last year's deadline, for second- and third-round picks that became beneficial in the team's subsequent Wilson acquisition, but Pompei adds Miller's original team did not contact him during free agency.
Gregory, 29, joined the Broncos, who drafted Nik Bonitto in Round 2. The team also stands to return ex-Miller wingman Bradley Chubb and fill-in starter Malik Reed, along with other George Paton-era draftees, at outside linebacker. In Buffalo, Miller will lead an edge-rushing contingent housing recent first- and second-round picks Gregory Rousseau, Boogie Basham and A.J. Epenesa. The Bills also brought back Shaq Lawson this offseason.
The Bills submitted their offer after a Miller visit, one that Pompei adds included the former No. 2 overall pick nearly backing out. Miller nearly told Sean McDermott and GM Brandon Beane on the visit — a meeting kept quiet — he would not sign with the Bills, but after meeting with the team's coaching staff and discussing his potential role with Josh Allen and Stefon Diggs, the marquee free agent reconsidered. The end result marked one of the biggest signings in Bills history.