Cole Beasley played in two Buccaneers games since joining their practice squad in September, but the veteran wide receiver is changing course. The productive slot receiver plans to retire immediately, per Mike Garafolo and Tom Pelissero of NFL.com (on Twitter).
This abrupt retirement will end an 11-year career spent with the Cowboys, Bills and Bucs. Beasley, 33, spent the offseason looking for a new team and sent Tom Brady Instagram DMs about joining the Bucs. So it is obviously surprising to see him call it quits soon after arriving in Tampa. Beasley being separated from his Texas-stationed family led to this retirement call, Jenna Laine of ESPN.com tweets.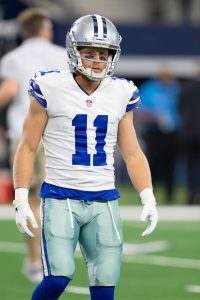 Other teams besides the Bucs expressed interest in Beasley. The Commanders, Giants and Panthers pursued Beasley since his Bills release, but the Bucs — dealing with a wide receiver shortage at the time — won out. Beasley caught four passes for 17 yards during his two-game Bucs cameo. The team's receiver situation has improved as well, which likely would have meant less time for Beasley going forward. Mike Evans re-emerged after his one-game suspension, and injured wideouts Chris Godwin and Julio Jones played against the Chiefs on Sunday night.
Beasley will certainly be better remembered for his time in Dallas and Buffalo. The Cowboys put the SMU product to work as their primary slot receiver for most of the 2010s, with Beasley being the team's top receiving constant outside of Dez Bryant during that period. The Cowboys extended Beasley on a four-year, $13.6MM deal in March 2015 and saw him produce career-best (at the time) numbers a year later to help Dak Prescott earn Offensive Rookie of the Year acclaim during a 13-3 season. Beasley caught 75 passes for 833 yards and five touchdowns that year.
As Dallas' Bryant partnership came to an end following the 2017 season, Beasley remained in place as the team transitioned to its Amari Cooper-fronted attack. Preparing for a Cooper payday, the Cowboys let Beasley walk in 2019. Eager to upgrade Josh Allen's receiver situation, the Bills paid up for Beasley (four years, $29MM) and John Brown that year. While the latter topped 1,000 yards in 2019, Beasley played a pivotal role in aiding Allen as well. From 2019-20, Beasley totaled 1,471 receiving yards and 10 touchdowns, transitioning to a role as Stefon Diggs' sidekick when the Bills swung their blockbuster trade with the Vikings in 2020.
Last season did not bring as much success, and Beasley became a controversial figure as he spoke out regularly against COVID-19 vaccines. Beasley matched his 82 catches from 2020 but checked in at a career-low 8.5 yards per reception. Beasley contracted COVID in December and missed a game, joining many thrust into that position during the pandemic, and the Bills made him a cap casualty ahead of the 2022 league year. The Bills moved on with younger receivers, and Beasley's retirement further reduces the number of 30-something wideouts left in the NFL. Fellow 2021 Bills contributor Emmanuel Sanders, 35, preceded Beasley by retiring a few weeks ago.
Beasley will wrap his career as one of this era's top slot targets. For his career, Beasley caught 554 passes for 5,726 yards and 34 touchdowns.