Since debuting in 2013, Matt Barkley has just seven starts to his credit. Although he's largely unproven, Bills head coach Sean McDermott says he's "very confident" in the quarterback "for a lot of reasons," as Sal Maiorana of the Rochester Democrat and Chronicle writes.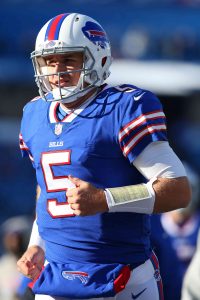 [RELATED: Owner Says There's No "Financial Pressure" On Bills]
Some have wondered whether Barkley is a reliable safety net for Josh Allen, in the event that the Buffalo starter gets injured or contracts COVID-19. Injuries and illnesses aside, there are plenty of question marks about Allen as well. The former first-rounder won ten games for the Bills last year and took them to the playoffs, but his career 56.3% completion rate leaves a lot to be desired.
Barkley, meanwhile, has gone 2-5 in his starts. For his career, he has a 58.8% success rate on throws with ten touchdowns against 21 interceptions. His last start came in 2018, a solid showing and victory over the Jets. Last year, he popped in for two games and lobbed three INTs with zero TDs.
In addition to Barkley, the Bills also have Jake Fromm on hand. The fifth-round pick out of Georgia was once viewed as a high-caliber prospect, but his performance slipped over time and tanked his stock. Fromm completed just 60.8% of his passes in 2019, which doesn't inspire much confidence either. Davis Webb, the former Giants third-rounder who has never appeared in a game, is also on the offseason roster.
Photo courtesy of USA Today Sports Images.