Cole Beasley could be on his way out of Buffalo. The Bills have granted the wide receiver permission to seek a new club (Twitter link via NFL.com's Mike Garafolo), paving the way for a potential trade.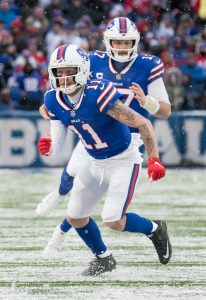 [RELATED: Latest On Trubisky's Market]
Neither side has offered further comment on the matter, though Beasley and the team reportedly clashed throughout the year. Beasley, who will turn 33 on April 26th, was still productive in 2021 with 82 catches for 693 yards and one touchdown. He also managed 82 catches in 2020, though that was a more efficient campaign — his 82/967 line averaged out to a career-high 11.8 yards per grab. Last year, he had just 8.5 yards per reception, tying his career low.
Beasley has one year to go on his four-year, $29MM pact. As it stands, he's set to count for $7.6MM against the Bills' books, but a trade or release would leave the team with just $1.5MM in dead money versus $6.1MM in savings.
That's a decent chunk of change, one that could be put towards larger expenditures like Rob Gronkowski. The Bills are reportedly interested in signing the 32-year-old as a free agent and he may be open to a move following Tom Brady's retirement. It also helps that Gronk is a Buffalo-area native who grew up as a Bills fan. Gronkowski, 32, managed 55 catches for 802 yards last year despite missing five games while injured.