While the smoke about a Matt Nagy post-Thanksgiving firing did not produce anything, the fourth-year Bears HC is likely coaching out the string. The Bears appear to have a familiar name on their radar ahead of the hiring process.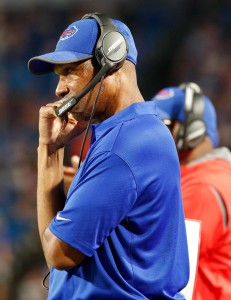 Bills defensive coordinator Leslie Frazier is believed to be a name to monitor regarding the Bears' eventual HC search, Dan Graziano of ESPN.com notes (ESPN+ link). Frazier has been with Buffalo throughout Sean McDermott's five-year tenure, overseeing a Bills defensive resurgence, and would be a second-chance candidate after a four-season run as Vikings HC in the early 2010s.
Frazier also has clear ties to the Bears, having played for the team in the 1980s. A starting cornerback on the famed 1985 squad that finished 18-1 and routed the Patriots in Super Bowl XX, Frazier intercepted 20 passes in five seasons with Chicago. He suffered what turned out to be a career-ending knee injury in that Super Bowl. The 62-year-old assistant has been an NFL staffer since 1999, joining the Eagles under Andy Reid after two years with the University of Illinois.
Taking over the Vikings as an interim HC in 2010, Frazier did not enjoy a favorable quarterback situation while in that role. The Vikings used Christian Ponder as their starter for most of Frazier's run. The Bears, of course, have struggled on this front as well for quite some time. Frazier has called defensive plays for the Bills and has been connected to a couple of coaching searches in recent years.
Frazier interviewed twice for the Texans job that went to David Culley this year and met with the Colts following the Josh McDaniels about-face in 2018. Bills ownership has pushed for a team to hire Frazier as HC. Given Buffalo's defensive success, it will be interesting if Frazier becomes a more popular candidate during the 2022 hiring period.
Photo courtesy of USA Today Sports Images.