Long tethered to Tom Brady, Rob Gronkowski has not informed the Buccaneers he is retiring just yet. Another contending team is interested to see if Gronk would continue his career now that his longtime quarterback has retired.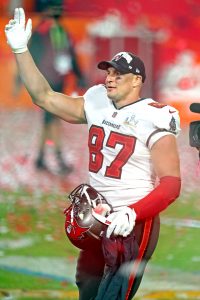 The Bills are interested in adding Gronkowski as a free agent, Tim Graham of The Athletic reports (subscription required). Buffalo discussed a deal with Gronk last year, but the future Hall of Famer opted to rejoin Brady in Tampa for the Bucs' title-defense season.
Gronkowski, 32, is a Buffalo-area native who naturally grew up a Bills fan. He has also been connected to another AFC team with a young star at quarterback. Gronk mentioned teaming up with Joe Burrow last month. The Bills have their own blossoming QB standout in Josh Allen, and pairing Gronkowski and Dawson Knox would represent a formidable tight end duo alongside the team's Stefon Diggs-led wideout corps.
Despite missing five games due to injury, Gronkowski was more productive in his second Bucs season. The all-time great surpassed his 2020 numbers by catching 55 passes for 802 yards. Gronk made it through all 20 Bucs games in 2020 and came up big for Brady in Super Bowl LV, catching two touchdown passes in Tampa Bay's romp. Gronk's 15 playoff touchdown catches rank only behind Jerry Rice's 22 in NFL history.
The Bucs traded for Gronkowski, who unretired after missing the 2019 season, in 2020 and then re-signed him last year as part of their run-it-back effort. Gronk played on a one-year, $8MM agreement. Gronk said in late January he would say no to playing a 12th NFL season, and Bruce Arians said Tuesday it is not certain the two-year Bucs contributor wants to play again (Twitter link via Pewter Report). But Arians noted Gronk has been coming to the team's facility twice a week for workouts. That and Gronk's Burrow comments certainly indicate a curiosity in extending his career post-Brady.