After promoting their previous quarterbacks coach (Ken Dorsey) to offensive coordinator, the Bills hired former Panthers OC Joe Brady to be Josh Allen's position coach. Brady's hire did not commence until February, and it came after the team was prepared to give a still-active QB a long look for the gig.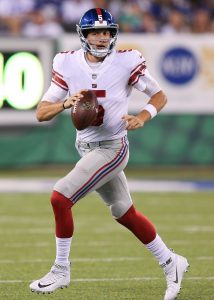 Davis Webb signed with the Giants in February, opting to continue his playing career by following Brian Daboll to the rebuilding NFC team. But the Bills were interested in him for their quarterbacks coach post. Had Webb wanted to enter coaching now, Buffalo would have hired him for the QBs role this year, Tim Graham of The Athletic notes (subscription required).
A 2017 third-round Giants pick, Webb has hung around the league on roster fringes. But this potential path to a higher-level assistant gig, at age 27, signals the Cal product could have a future in coaching soon. Webb confirmed during an appearance on the Breaking Big Blue podcast with ESPN.com's Jordan Raanan he had a chance to interview for the Buffalo QBs coach job but chose to keep playing.
"You're either staying in Buffalo or going probably with Dabs and them or you're thinking about coaching," Webb said (audio link). "When I talked to Brandon [Beane] and Sean [McDermott] about it, we kind of left that conversation probably leaning toward coaching in Buffalo. It would have been the quarterback coaching job and I would have had to interview and go through the whole process, but that's kind of where we were leaning toward was us probably transitioning into that.
"They offered that I could still play. You could be in Buffalo in one of these two roles. We want you here. … Why start coaching when you have two contract [offers] to keep going? For me to give up on that just didn't seem right."
Webb is attached to a one-year, $945K Giants deal, following Daboll and ex-Bills assistant QBs coach Shea Tierney to the Giants. Tierney is now Big Blue's QBs coach. Although Tyrod Taylor is positioned to be Daniel Jones' backup, it should be considered likely Webb will have some input in the fourth-year starter's development. Webb has appeared in one game, which came last season, but has yet to throw a regular-season pass.